Flip Flops(08-12-19)
In

footwear

and

fashion

, flip-flops are a flat, backless, usually rubber

sandal

consisting of a flat sole held loosely on the foot by a Y-shaped strap, like a thin thong, that passes between the first (big) and second toes and around either side of the foot. They appear to have been developed based on traditional

Japanese

woven or wooden soled sandals.
Flip-flops have a style of their own, different from indoor slippers and other types of shoes. These dressier versions of the thong sandal are often made of leather, suede, patent leather, metallic finishes, fabric and other textiles. Based upon prevailing fashion, they are sometimes embellished with buckles, jewelry, fringes, medallions and beading. In their more formal incarnations, thong sandals are interchangeable with any other dressy sandal, and are often worn as dress shoes. The term "flip-flop" is not generically used to describe this dressier style of thong sandal.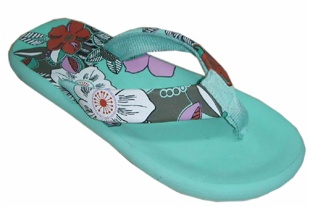 Features:
1, PU+eva+woven straps
2, EVA with printing sole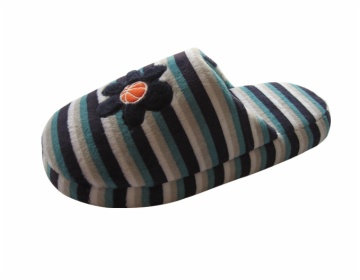 Features:
1, filling: Comfortable foam
2, Upper: Plush+embroidery
3, Sole: Rubber+cotton+plush
4, Various colors and sizes available according to customer's request